the fuzzy family
---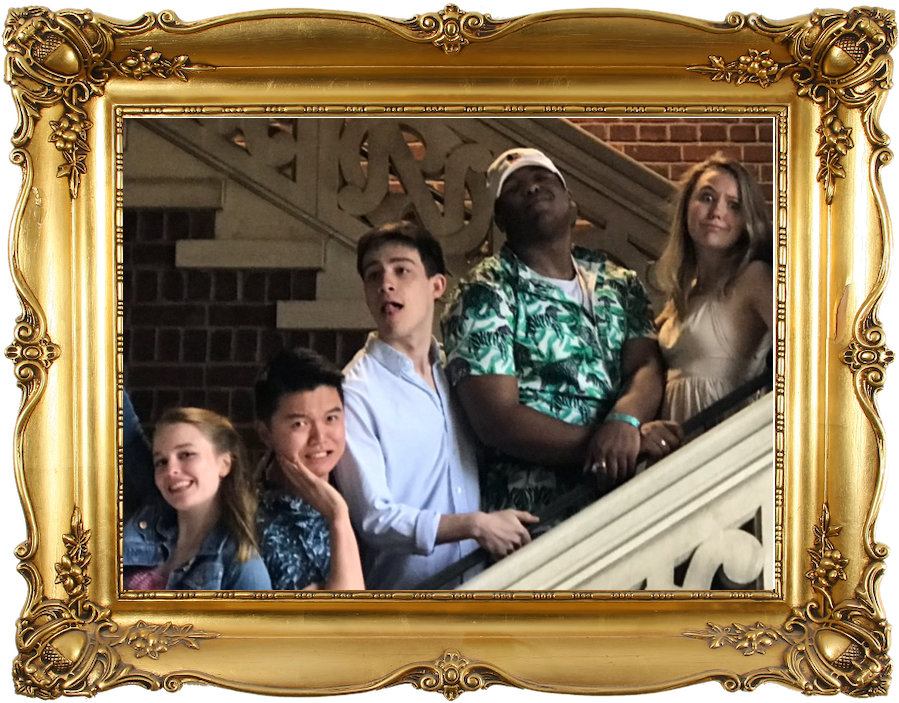 Fuzzy Dice, Princeton's (Self-Proclaimed) Most Attractive Improv Group, was founded in 2004 as the first troupe on campus to offer both long- and short-form improv comedy. Since then, we have performed at campuses and theaters across the US. Fuzzy Dice is both an improv group and a family, which makes it that much easier for us to enjoy doing what we love. let us adopt you!

~ CURRENT MEMBERS ~
---
Owen Matthews

Executive Director, Class of 2022

Owen, the most attractive member of the most attractive improv group on campus, is a sophomore from New Jersey. Home of Taylor ham, Meryl Streep and the liberty science center, she understands why her classmates chose to come to school in this glorious state. In her free time, Owen enjoys giving herself motivational talks in the mirror, indulging in her carnivorous habits, and waiting for her Hogwarts acceptance letter. Also, in case you hadn't heard, she did Bridge Year.
---
Jackson Artis

Executive Director, Class of 2020

Jackson comes from the greatest state of the 48 contiguous United States, New Jersey (fight him if you feel otherwise). He enjoys Batman probably more than a college student really should. Hobbies include stuffing his pants into his socks, feeling good about himself, and hissing in the gym to make himself feel stronger and more intimidating.
---
Jonathan Som

Artistic Director, Class of 2022

Jonathan is actually from Marin County, north of San Francisco, but just tells people he's from San Francisco because it's easier. He is best known for his career as his high school's greatest (and only) electric jazz cellist, and for being the least visibly-enthused person in the room. Often described as a grandfather clock, he spends his days listening to his favorite artist, Pitbull, and eagerly awaiting his first chest hair.
---
Lowell Hutchinson

Publicity Chair, Class of 2021

Lowell is a junior from a little town called Carlisle, Massachusetts. Her father passed when she was very young, and she was left in the care of her evil step mother and two step sisters. She worked her way to Princeton by mopping floors and singing to birds and squirrels. Oh, quick PSA: Lowell left her shoe on the steps of Frist at midnight last night, and would be ever so grateful if some hot guy would try it on every single girl on campus until he found her. Thanks!
---
John Ehling

Treasurer, Class of 2023

John is an animate clump of blond hair from just outside of Pittsburgh, Pennsylvania. He enjoys taking long naps in public spaces, eating excessive amounts of food, and being generally raucous. As Fuzzy Dice's token athlete, John can be found at any waking moment thrashing around in the deep end of DeNunzio Pool. Please assist him if he stops moving.
---
Anna Allport

Secretary & Alumni Coordinator, Class of 2023

Anna Allport is a wedding photographer based in Auckland, New Zealand. She is also the sixth spice girl: Shakespeare spice. When she's not reading for the HUM sequence, she's directing adaptations of classic dramatic plays. Her hobbies include eating organic coconuts, perfecting her top-secret-world's-best-guacamole recipe, and honing her 18th century French porcelain pottery making skills.
---
Chloe Satenberg

Social Chair, Class of 2023

Chloe "Old Hickory" Satenberg is a freshman hailing from the great city of smog and overpriced smoothies: Los Angeles. She enjoys long walks on the beach, piña coladas, and getting caught in the rain. You can often find her napping peacefully under a willow tree or in the gym bench pressing 225 lbs. Within the orthodontic community, she has received high honors for being "that girl who still wears her retainers every night."
---
Ben Bollinger

Director of the Board, Class of 2021

Ben is a genuine earthling from Morristown, New Jersey. Just like any human being who is definitely not an alien marooned here in a tragic UFO crash, Ben spends his days breathing oxygen and consuming organic matter to achieve his maximum lifespan. At night, however, he has often been seen on the roof of Alexander Hall, wistfully gazing at a distant star while shedding a single tear.
---
Elias Mosby

Class of 2023

Elias Mosby is from the dirt roads and sweeping fields of Van Alstyne, Texas. Round those parts he's known as the Godpapy. As the CEO of the totally legal Texas Cow Tipping Association, he is well acquainted with the in's and out's of barnyard foolery. When not performing his totally legal redneck duties, he is most likely taking one of his sixteen daily naps.
---
You?

Class of ????

Put down that gosh darn computer and go audition for fuzzy dice, young whipersnapper.

listen to your elder!
~ CURRANT MEMBERS ~
---
Pink Champagne Currant

Ribus Ribrum, Class of 2021

Primarily used for fruit production, this gorgeous plant is a compact, mounding, diciduous shrub that grows 3-5' tall. Yum!
---
Black Currant

Ribes Nigrum, Class of 2022

Black currants, which grow excellently in sandy loams and forest soils, are known for their enticing aroma and tart flavor. Perfect for jams and jellies!
---
Raisin

Unwelcome Presence, Class of Eww

"Stop right there. You're not a currant at all- what do you think you're doing in the currant members section of this website? You don't BELONG here. Get lost, you wrinkly old raisin, before I smack you so hard you turn back into a GRAPE!"
---
We love our alumni! If you're an alumnus/a email Lowell to make sure you're on our mailing list.
2006: David Kaplan*
2008: Will Ellerbe*, George Lace*, Alex Limpaecher*, Mark Bur, Paul Cowgill, Whitney Mosery
2009: Ashley Alexander, Annie Haslam Colquitt
2010: Jessica Taylor
2011: Sam Borchard, Kaitlyn Hamilton, Will Martinez
2012: Louisa Ferguson, Laura Pedersen, Max Rosmarin, Taylor Stewart-Cannon, Eric Wang
2013: LindseyRose Aguero-Sinclair
2014: Nigel Brauser, Lauren Coleman, Sara Figel, Sam Payne, Quintin Sally, Dillon Sharp, Dan Steurer
2015: Kelsea Best, Evan Coles
2016: Angad Anand, Justin "Japes" Poser
2017: Paulina Orillac
2018: Paddy Boroughs, Jessica Quinter, Cat Sharp
2019: Cameron McKenzie, Raina Seyd, Shea Minter, MacLean Collins
*(Founders!)